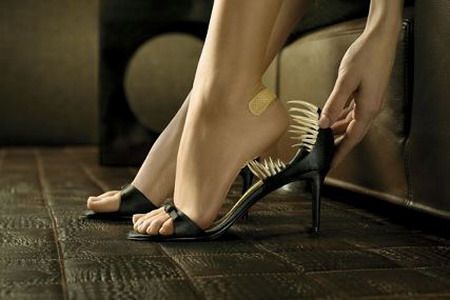 " รองเท้ากัด .. ทำไมไม่กัดมันก่อน "
เพื่อนหลายคน ชอบตอบน่ารักแบบนี้ ..
ก็เข้าใจนะ .. ว่าอุตส่าห์ช่วยตอบแล้ว
หลาย ๆ คนคงทราบถึง ความเจ็บปวด ทุกข์ทรมาน
จากอาการสาหัสจากรองเท้ากัด รัด บีบ
ทำให้เท้าของเรา เสื่อม สภาพ มีริ้วรอย เป็นแผลเหวอะหวะ
หลายคนอาจจะทราบค่ะ .. แต่ก็บอกเผื่อหลายคนไม่ทราบ
ถึงพระเอกขี่ม้าขาวของเรา
จะมาช่วยชีวิต ในกรณีที่รองเท้ามันยังรักดีอยู่
คือ ยอมโอนอ่อน ผ่อนคลาย เท้าของเรา
นั่นก็คือ
คุณ วาสลีน Vaseline
ปิโตเลียม บริสุทธิ์ ขาวใสผุดผ่อง
ที่จะช่วยปกป้อง การคุกคาม จากรองเท้าไม่รักดีต่าง ๆ นา
กรุณาอย่ารักษา แต่ ใบหน้าค่ะ
เอิ๊กเคยนะ แบบ ทาแต่ครีมกันแดดหน้า ตัว แขน ขา
แต่ไม่ทาเท้า จนมีอยู่วันนึึง
ไม่เคยสังเกตุตัวเองเลย
" เท้าแม่งดำ โคตร โคตร "
จนมีชายหนุ่มทัก ดีนะ ( ไม่ใช่คนที่เดทด้วย )
เท้าดำยังกับ น้ำปลา
โอว ! ดูมันพูดสิ .. ซักทีไหม
แต่ขอบคุณนะ เพราะวันนี้
เท้าของฉันขาวผ่อง เท่าขาแขนแล้ว
ใช้เวลาบำรุงอยู่นาน
ก็ครีมทาตัวนี่แหละค่ะทาให้ทั่ว + ทับด้วย Sun Block Banana Boat
ก่อนออกจากบ้าน
ไม่ว่ายังไง เท้าก็ต้องโดดแดดก่อนเสมอ
ยกเว้นร่มคุณจะใหญ่เท่าบ้าน ..
อย่าเอาหน้าอย่างเดียวค่ะ ไม่ดี ..
555
" Beauty Face and Beauty Feet, too "
I loving it ! 5555555 a lot of useful.
Comments
comments
Facebook Comments Plugin Powered byVivacity Infotech Pvt. Ltd.